Hi there, we are Mileseey. We are designing more than innovative and cutting-edge technological gadgets. We are trying to make a more sustainable, wonderful, and safer future by enhancing human perceptions via best-of-class  intelligent sensing & imaging solutions.

Why a Mileseey TNV30 Magnesium-aluminium alloy thermal night vision?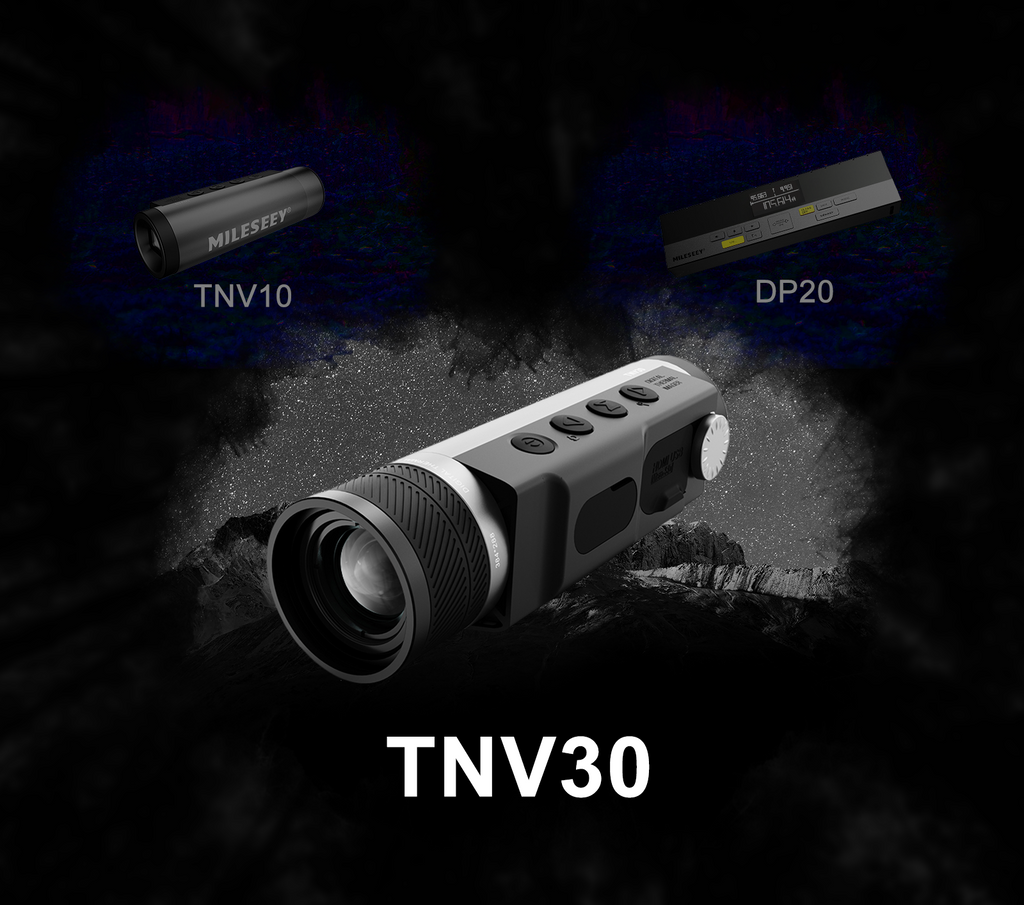 TNV30 thermal monocular is a newly introduced device of our Space Master product family, a subsidiary of Mileseey that extols the philosophy of MINIMALISM and SUSTAINABILITY, designing and manufacturing elaborate precisely-machined Mg-Al alloy products that provide the best benefits today while ensuring the health and safety of our future generations.
Countries are placing increasing importance on sustainable development and this provides us with an impetus to design a thermal night vision monocular trapped in a Magnesium-aluminium alloy housing that can provide a more constant, long-lasting hard use, meeting sustainable development goals.
Mg-Al alloy is also better at conducting heat away, and transforms an otherwise dull design into a premium, sleek and classy one.
Alongside sustainability, we build for passion and care.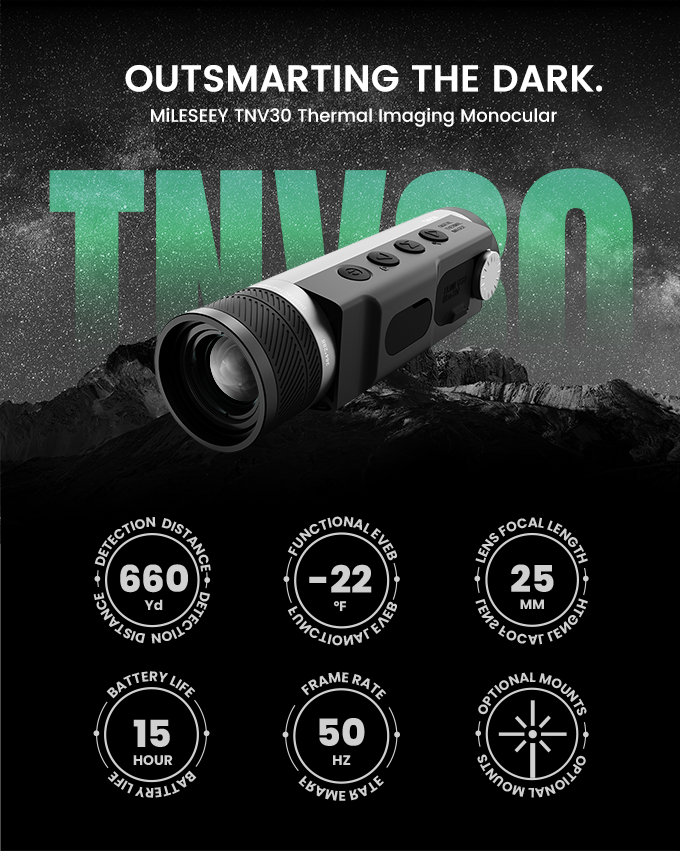 Nature travel provides the thrill of discovering something new. From finding the trail less travelled to making a successful shot, you belong outdoors. At Mileseey, we develop the best-of class optical gears, including the current thermal imaging model of TNV30 we are crowdfounding at kickstarter, to empower you to venture out and experience your passion because we love the outdoors as much as you.
Livestock are a crucial part of agriculture business. However, many farmers suffer from huge loss due to the attack of predators. At Mileseey, we dedicate ourselves to building the best security surveillance tools that can offer excellent 24/7 protection from predators, which is something we find meaningful because agriculture sustains our life by providing the food we need. This is also a little help that TNV 30 can bring in ensuring the property safety of people, like farmers.
What amazing features TNV30 can offer you ?
Extreme IR Resolution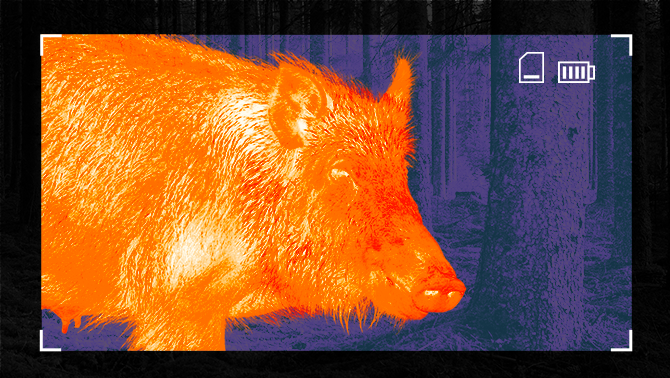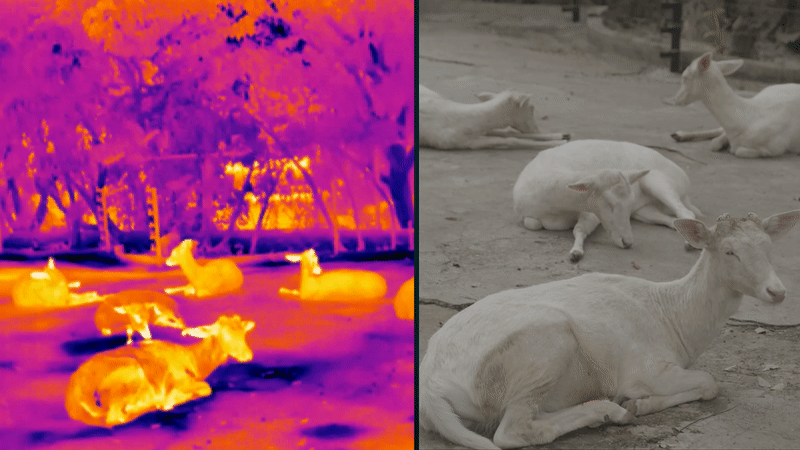 Featuring a vanadium oxide 384*288 metal infrared detector, an outstanding 800*600 OLED display, TNV 30 thermal imaging monocular delivers stunning image clarity and and highly detailed & sharp vision of objects.
Only seeing something is not enough. Hunters many times should be able to accurately identify what they see. With high IR resolution of TNV30, it is possible to discern even the fine details of animal fur, allowing you to easily identify whether you are targeting a boar or a lead sow.
Extra-long Detection Range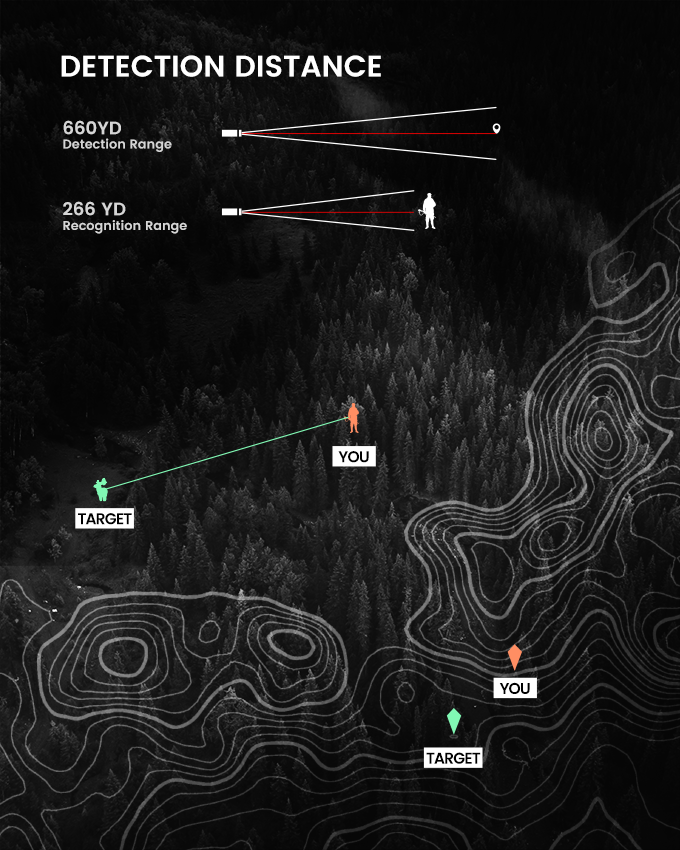 TNV 30 enables extra-long detection distance up to 660 yards in total darkness, fog or smoke.
F/1.0 Germanium Lens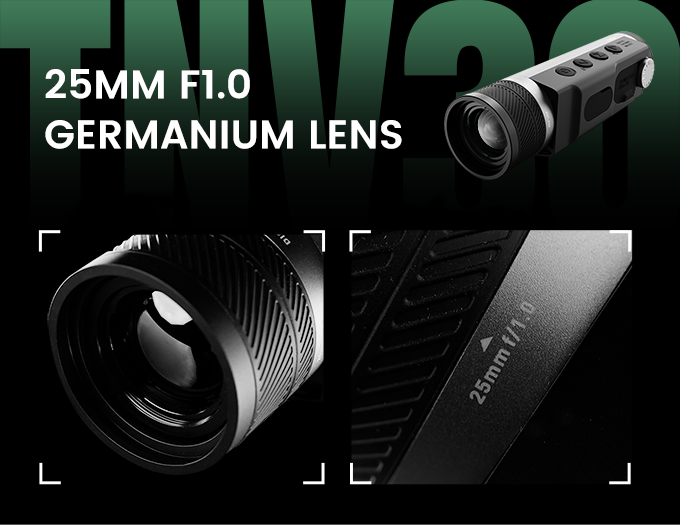 The germanium F/1.0 lens offer extremely high IR transmission in the LWIR range. The precisely manufactured optical elements of the lens allows the thermal monocular to generate images with distinguished clarity and detailing. TNV30 is designed for more than spotting, but identification.
Advanced Image Processing Algorithm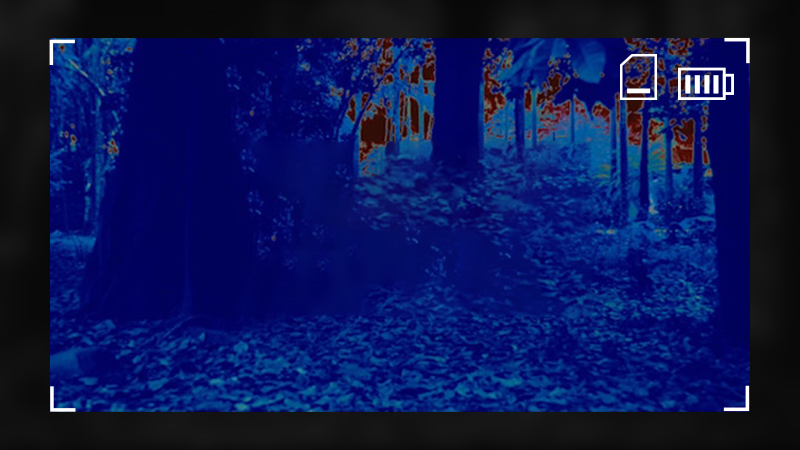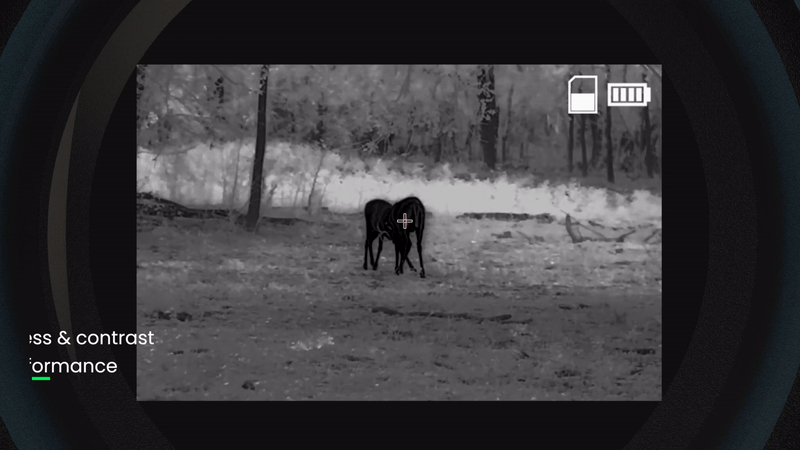 The state-of-the-rate original image processing software & digital detail enhancement technology (DDE) allow the thermal monocular to clearly reveal complex scenes in wilderness even with low thermal contrast objects that evenly emit infrared radiations, like grass, water surface. The smallest temperature differences will be clearly visible, allowing you to have a thermal image that is highly informative, and helps you pinpoint quarry easily and have a comfortable observation even in difficult conditions.
Multiple Color Palettes To Customize Your Display
TNV 30 offers a color palette with 5 display modes—white hot, Black hot, Red hot, Green hot, Iron Oxide hot, allowing you to customize your display and maximize the imaging effects in different scenarios. Switching between 5 imaging modes only involves a button click.'black hot' & 'white hot' delivers images with the highest level of thermal contrast, which is ideal for detection and recognition. When observing in a vast vegetation, 'red hot' & 'iron red' allow for fast detection of heat signatures, quickly spotting a prey that is hidden or in camouflage.
8X Digital Zoom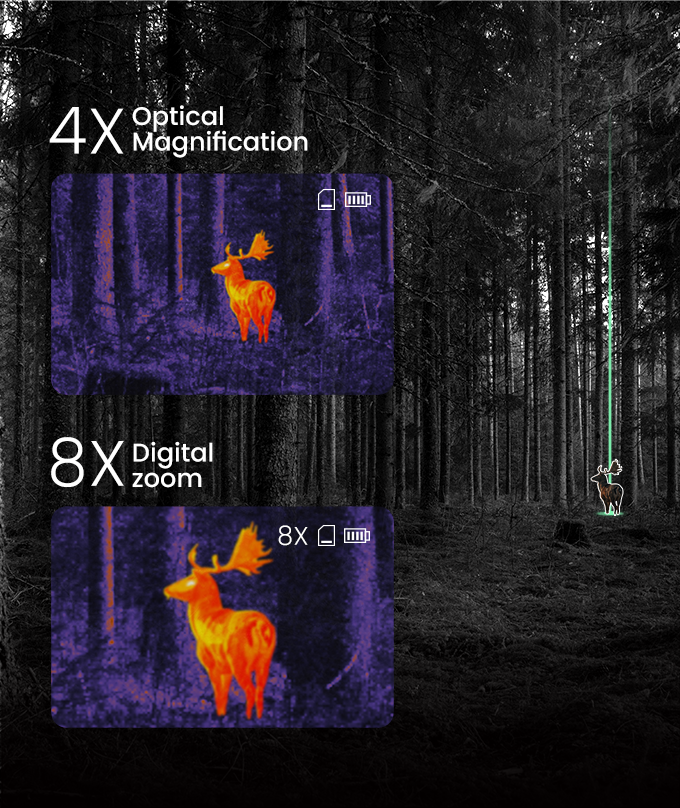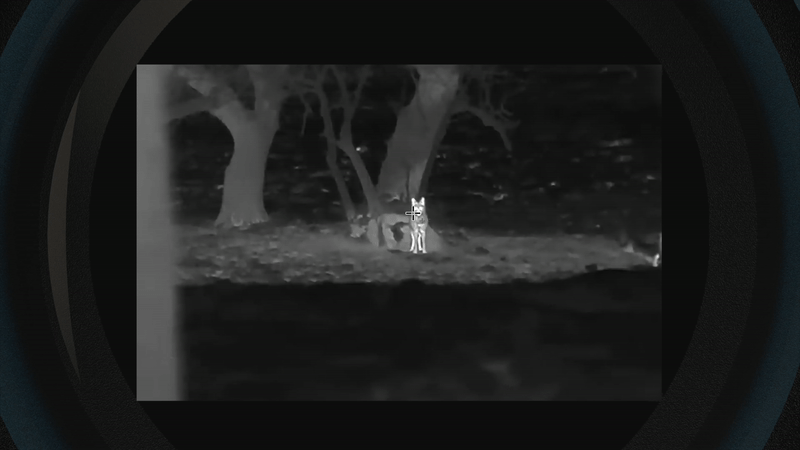 With 1- 8X digital zoom to enlarge your photo, it allows you to easily identify your target within 660 yards in pitch darkness when you cannot physically move in closer to the target.
Adjustable Focus To Enable The Sharpest Image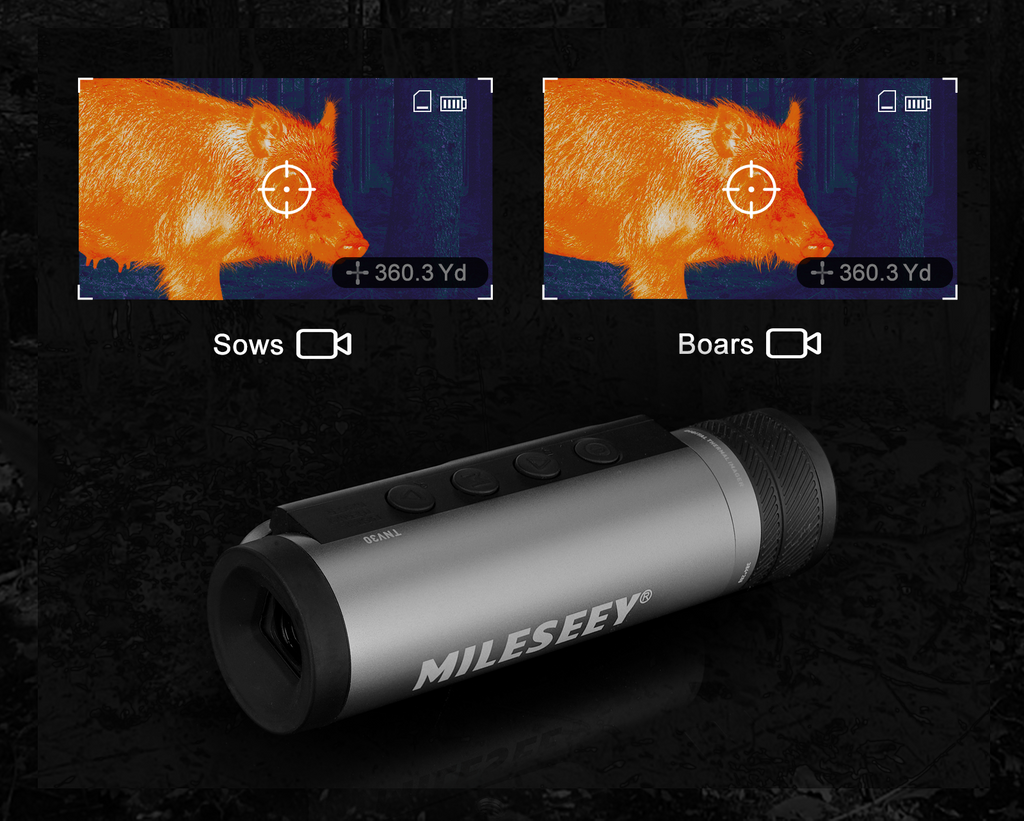 The adjustable lens focus is unequivocally a leap of thermal optical technology in TNV 30. Users can bring the object into the sharpest image focus in different distances simply by rotating the objective focus ring.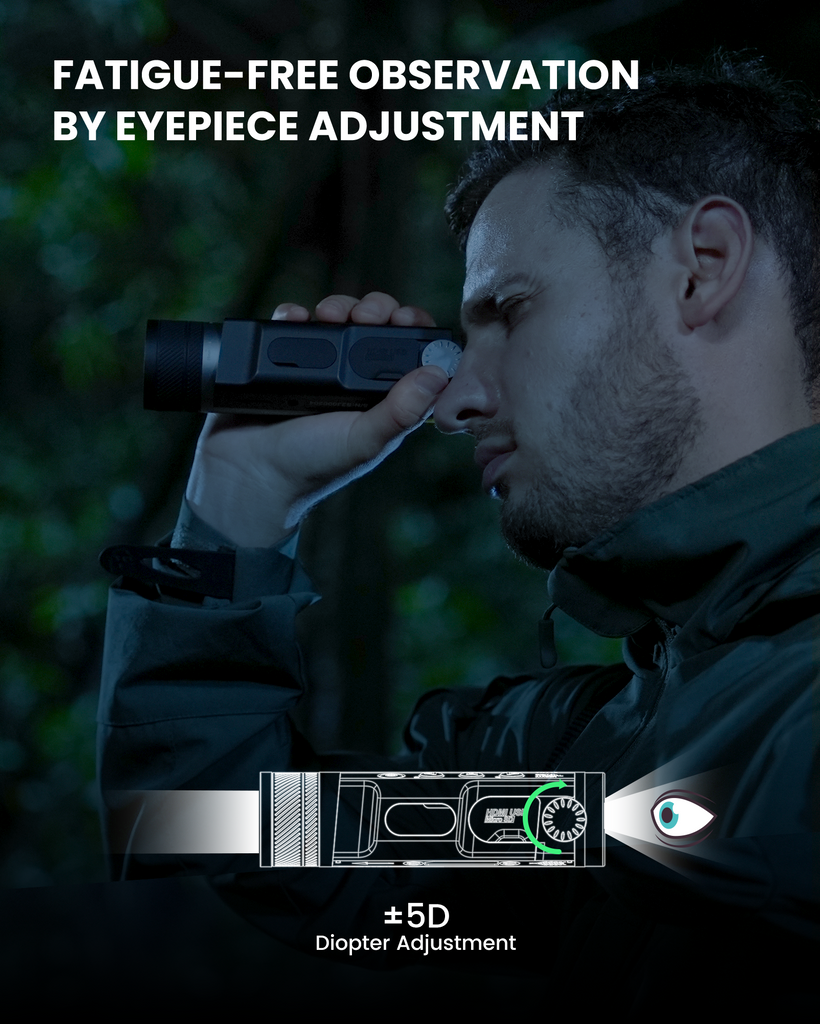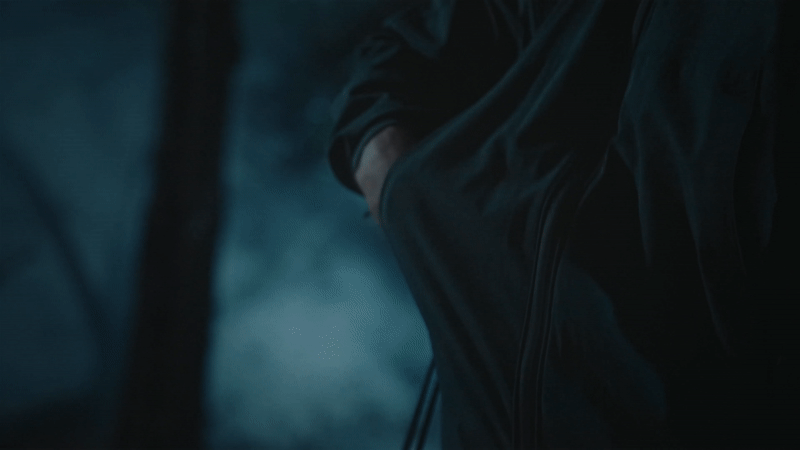 The eyepiece diopter adjustment(-5~+5SD)will allow you to observe with or without glasses and get a custom fit for your eyes, reducing eye fatigue when using the monocular.
Picture Snapshot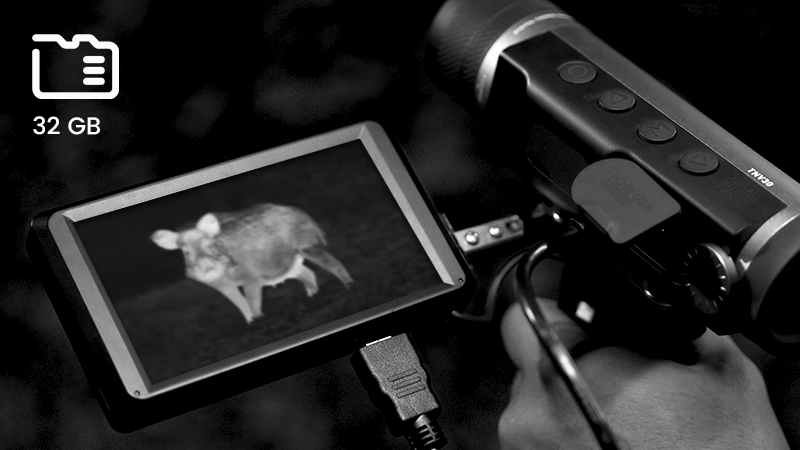 TNV 30 allows you to capture snapshot images with true accuracy. The built-in 32 GB micro SD card enables you to save more than 20,000+ images into the memory card which can be transferred to mobile terminals or PC via USB cable where you can make a more profound analysis of the captured object or scene.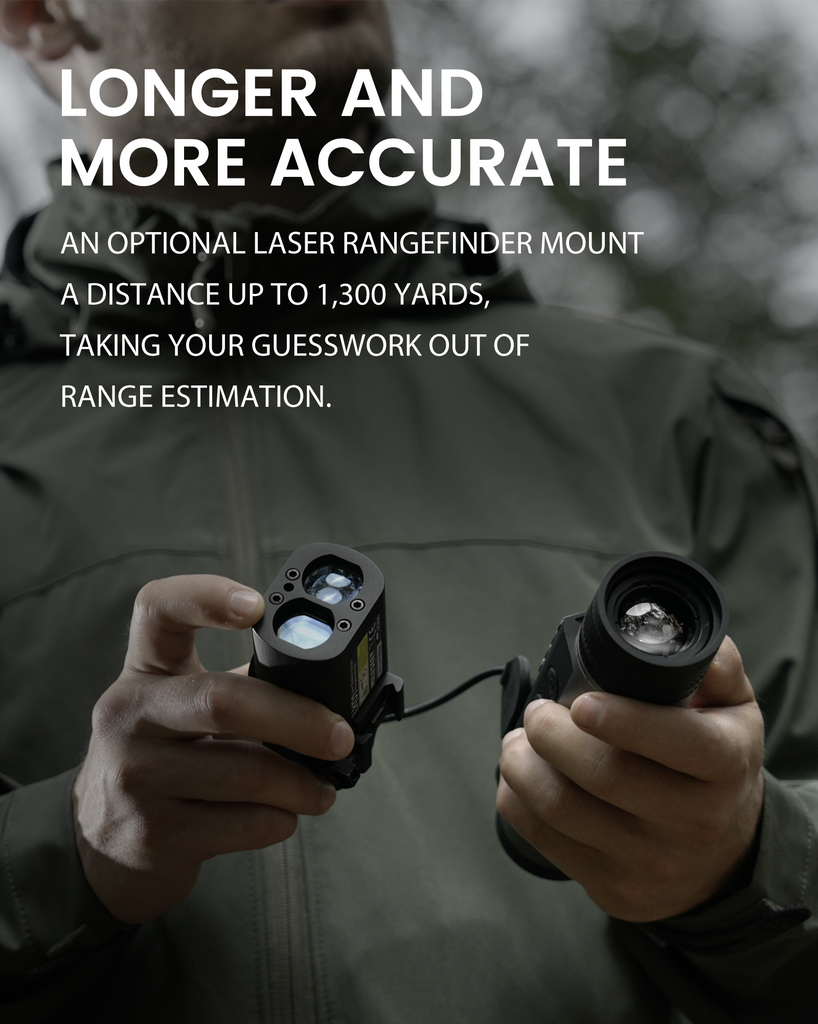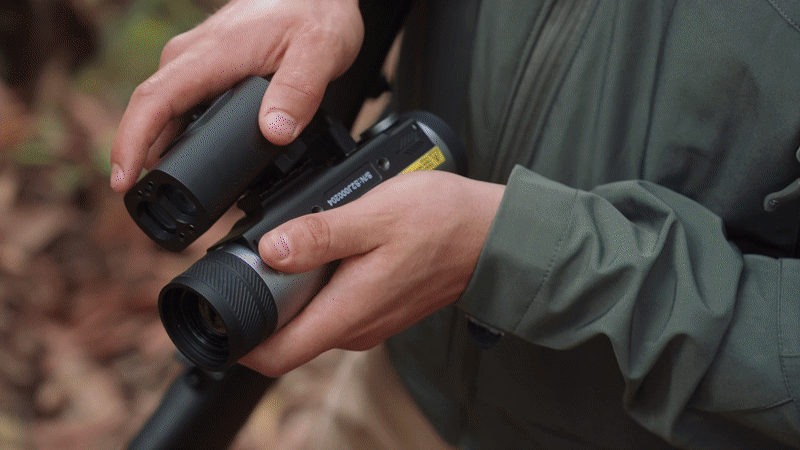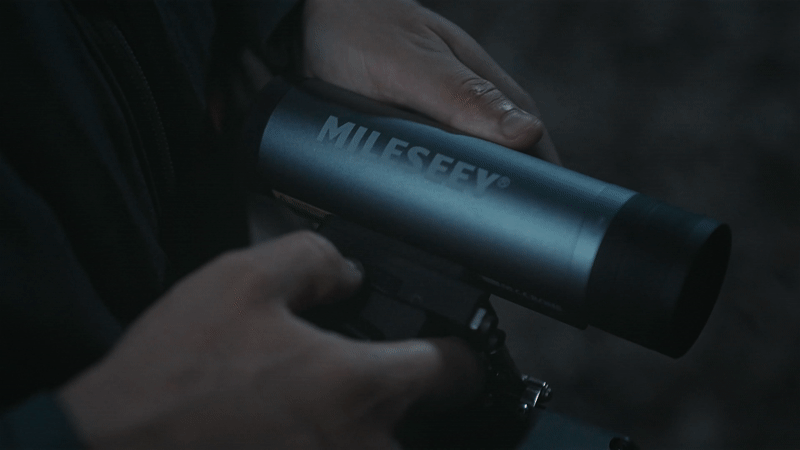 TNV 30 also uniquely features an optional external screen for viewing through an external screen adapter.
TNV 30 is capable of accurately measuring distances up to 1,300 yards away by seamlessly integrating a laser rangefinder module(optional), taking the guesswork out of range estimation, day or night. The precise laser rangefinder provides +/- 1 yard accuracy and overlays these measuring results on the display of the connected monocular.
High Durability & Long-lasting Performance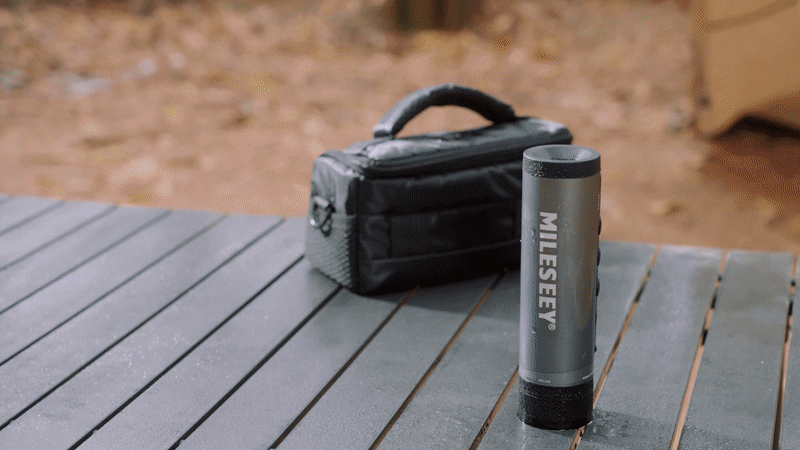 With IP 65 protection level, 1-meter drop proof, and wide operating temperature range, TNV 30 is durable enough to withstand hash environments & weather conditions, like rain, snow, or other precipitation, as well as extreme temperatures (-22F°-140F°), guaranteeing a long-lasting excellent performance through out your outdoor ventures.
You can always stay dry with the unbeatable duo—Both the device and the carrying bag are waterproofed. The waterproof bag is an useful investment to protect your device from water damage.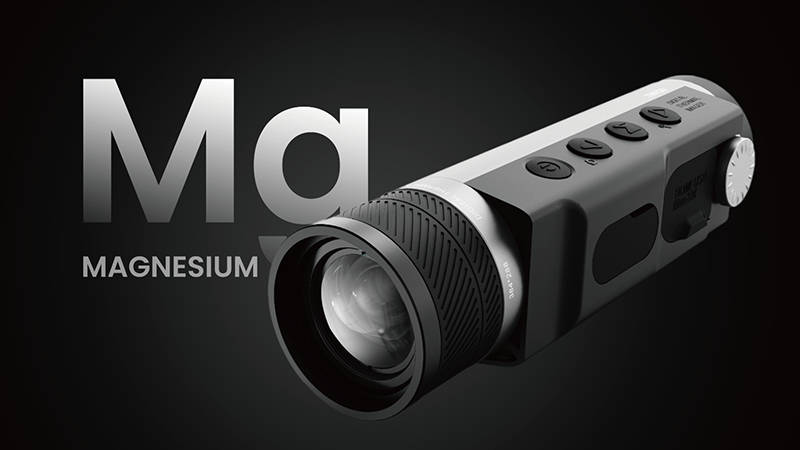 TNV 30 is built for long-lasting hard use. A reinforced aircraft-grade magnesium-alloy housing is strong, durable and anti-oxidant, protecting the inner components of a thermal monocular from shocks, drops, moisture, heat and cold. Meanwhile, the alloy housing effectively eliminates heats from the electronics, minimizing image noises and guaranteeing consistent performance during long-term observation.
Perfect Ergonomic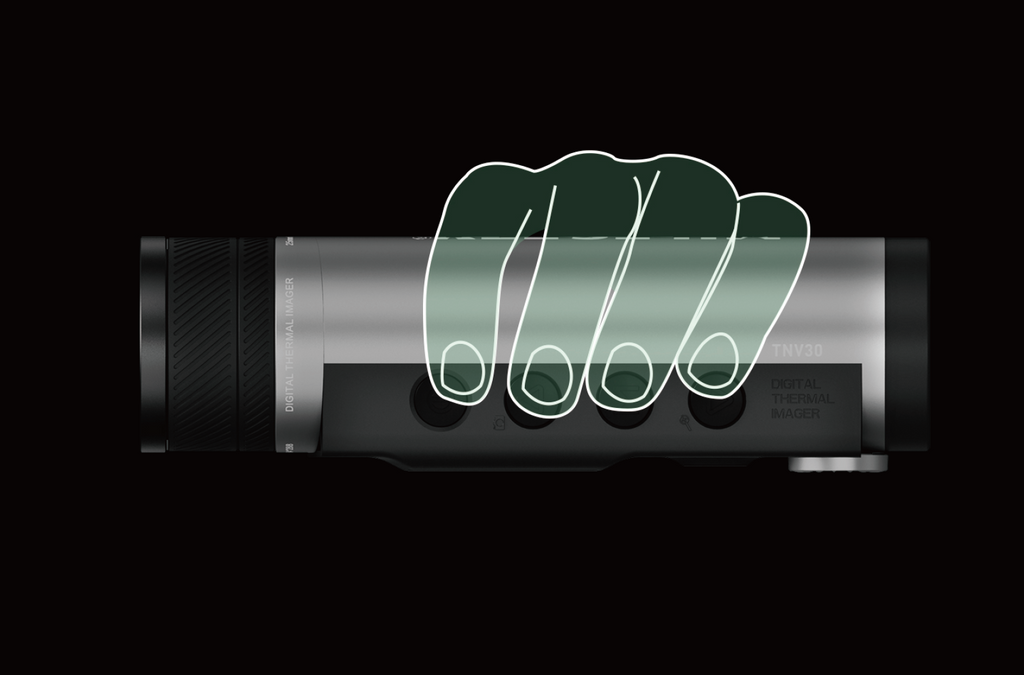 Compact & pock-sized, designed for one-handed operation, the thermal image has a grab-and-go simplicity. The ergonomic shape provides comfortable holding for both right-handed and left-handed users and allows a natural posture of the hand, with fingertips directly resting on the top of the buttons located in a row on the top panel.
Stalking in the night usually requires a great amount of attention. With the minimalist design of the buttons, instantaneous start-up, each function can be controlled easily and intuitively without the need of any training, allowing it to cause zero distractions. The control elements can be identified quickly, even when you wear gloves, greatly improving your rate of success in hunting.
"Hot-tracking Mode"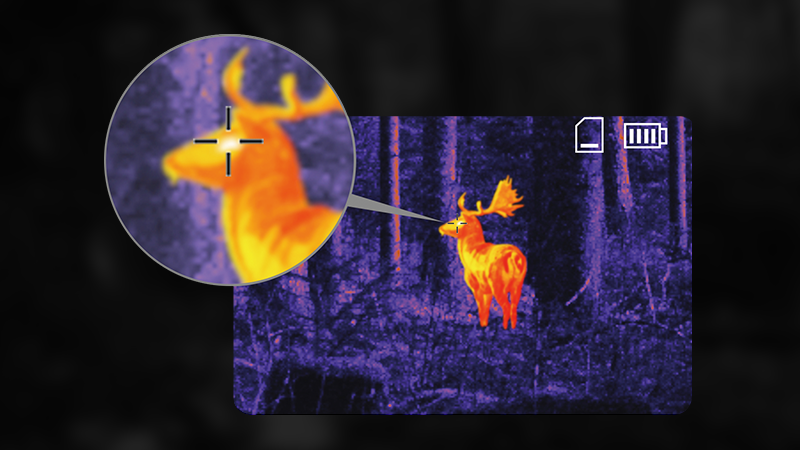 TNV 30 features a'hot tracking' mode where the warmest source in the image is tracked by crosshairs. This allows finding heat sources in the densely overgrown area much easier!
High Frame Rate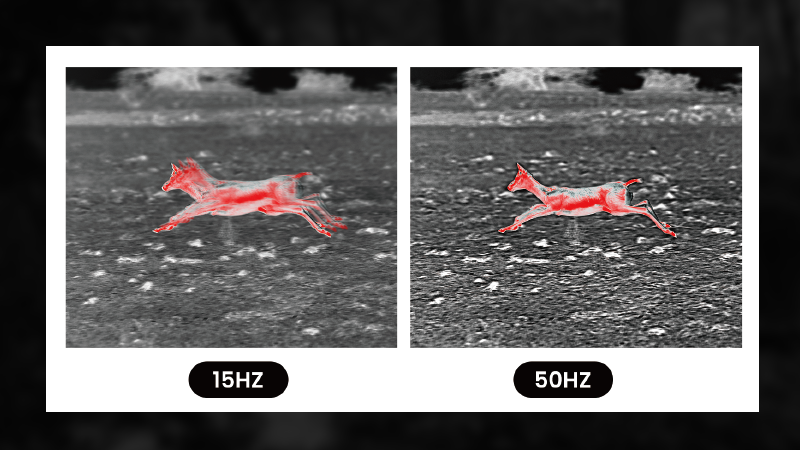 The Mileseey TNV 30 features a display frame rate up to 50 Hz, which refers to the number of times per second your monitor can redraw the screen. A higher display leads to a decreased flickering of image, consequently bringing more comfortable and smoother visual experience and reducing eye strain when stalking for a long time at wilderness.
Rechargeable Li-ion Battery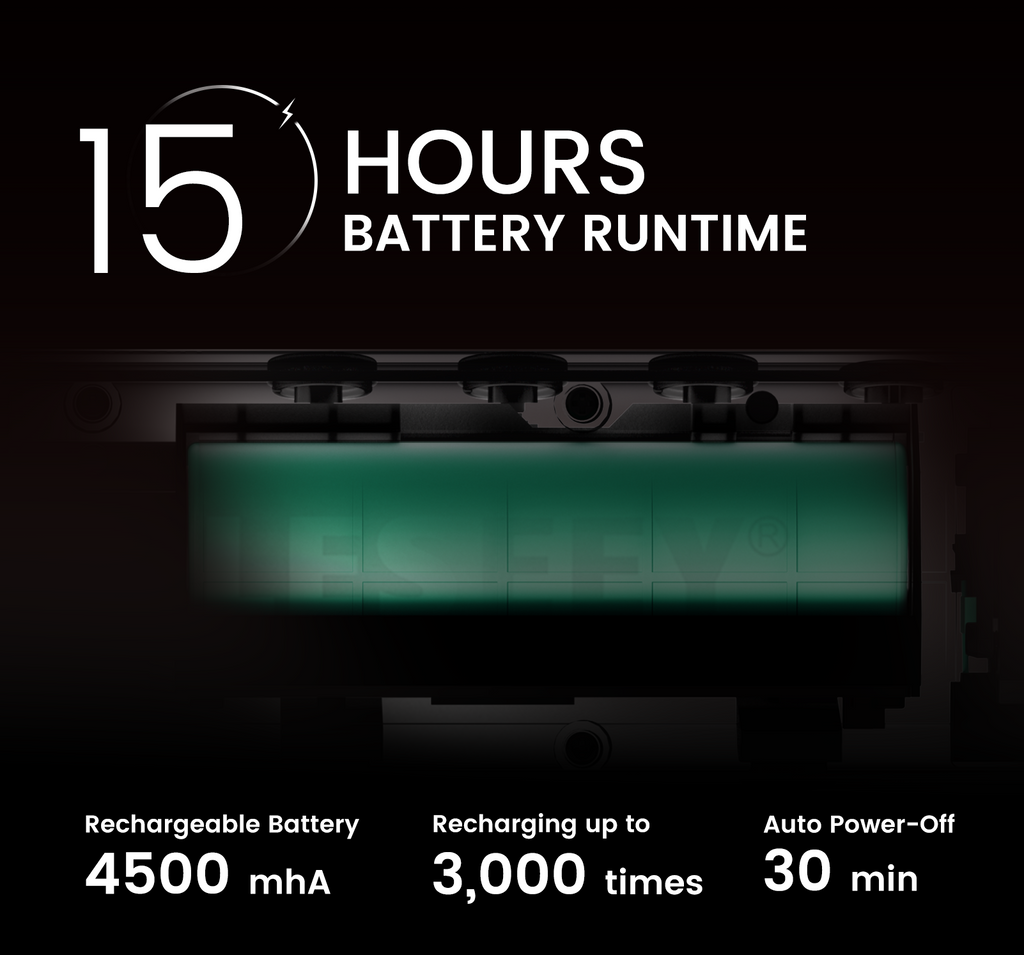 With a 4500 mAh-capacity rechargeable lithium battery pack and an impressively long battery life of up to 15 hours, the monocular gives the users peace of mind knowing that they have enough power when exploring outdoors, even if it is not fully charged. This also means you don't need extra batteries or portable chargers that usually bring extra weight when stalking in the wilderness.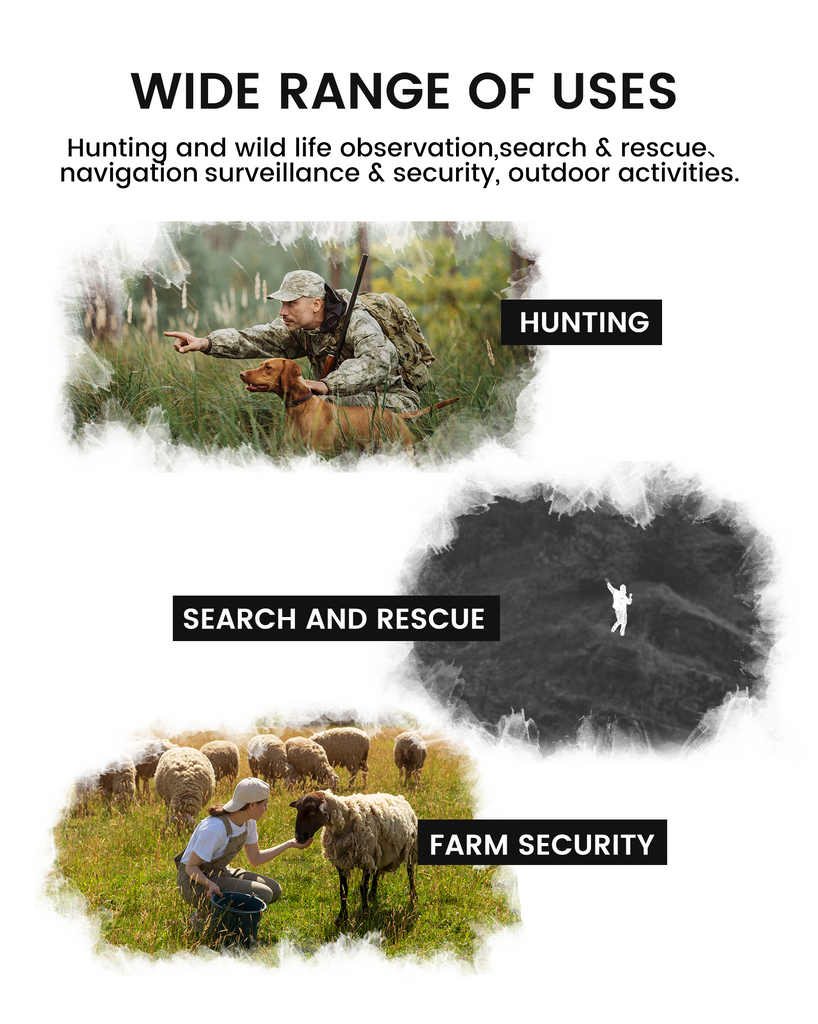 The versatile monocular has a wide range of uses. Hunting and wildlife observation, law enforcement and security, search and rescue, navigation(like in a cave), industrial and commercial applications (heat loss in buildings, leaks in pipelines), and outdoor activities.
Aside from packing the TNV 30 for adventures in wilderness, it is also an ideal instrument for personal security.It is capable of both diurnal and nocturnal observation, helping you keep an eye on your property 24/7, searching for missing pets and predators, and providing surveillance to parking lots, parks, and sidewalks.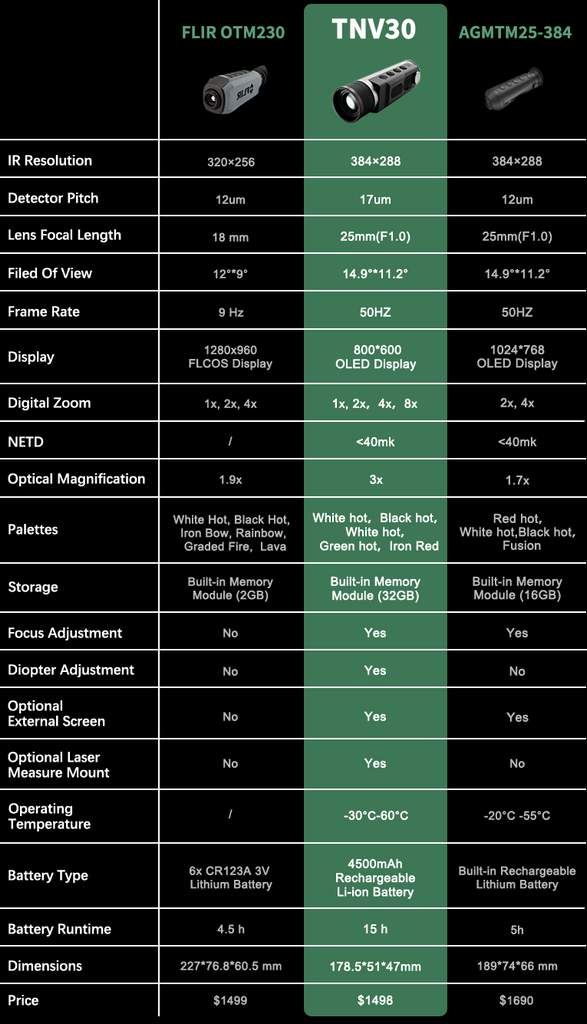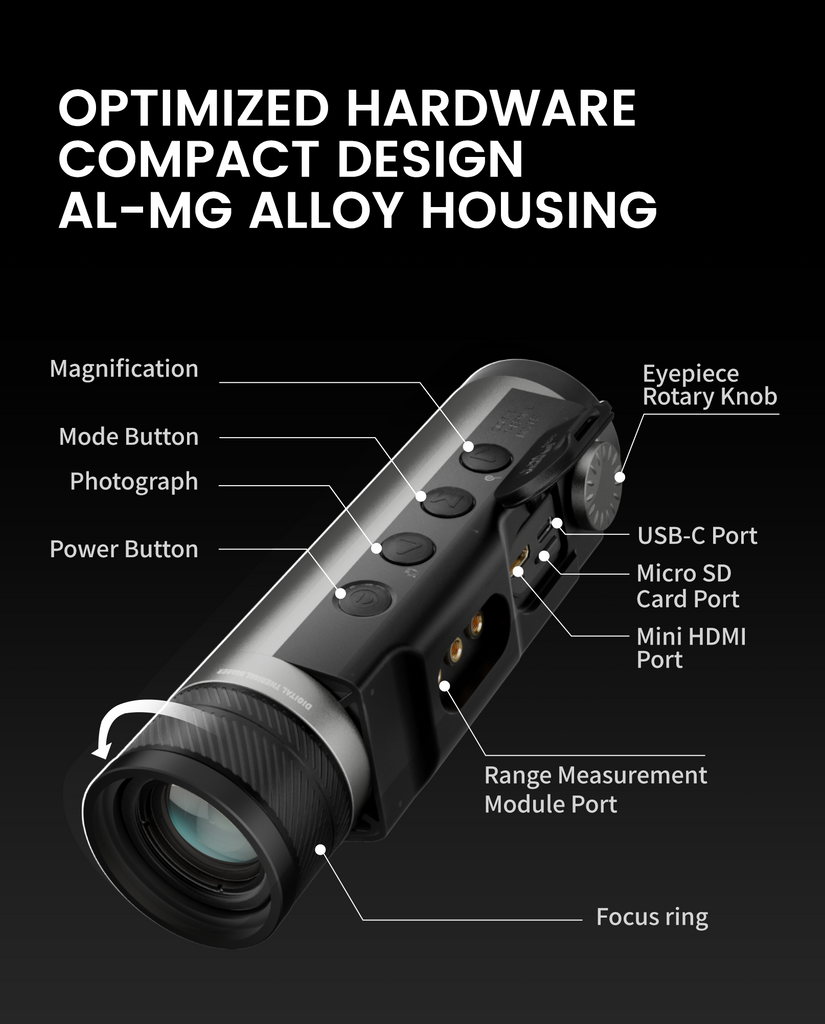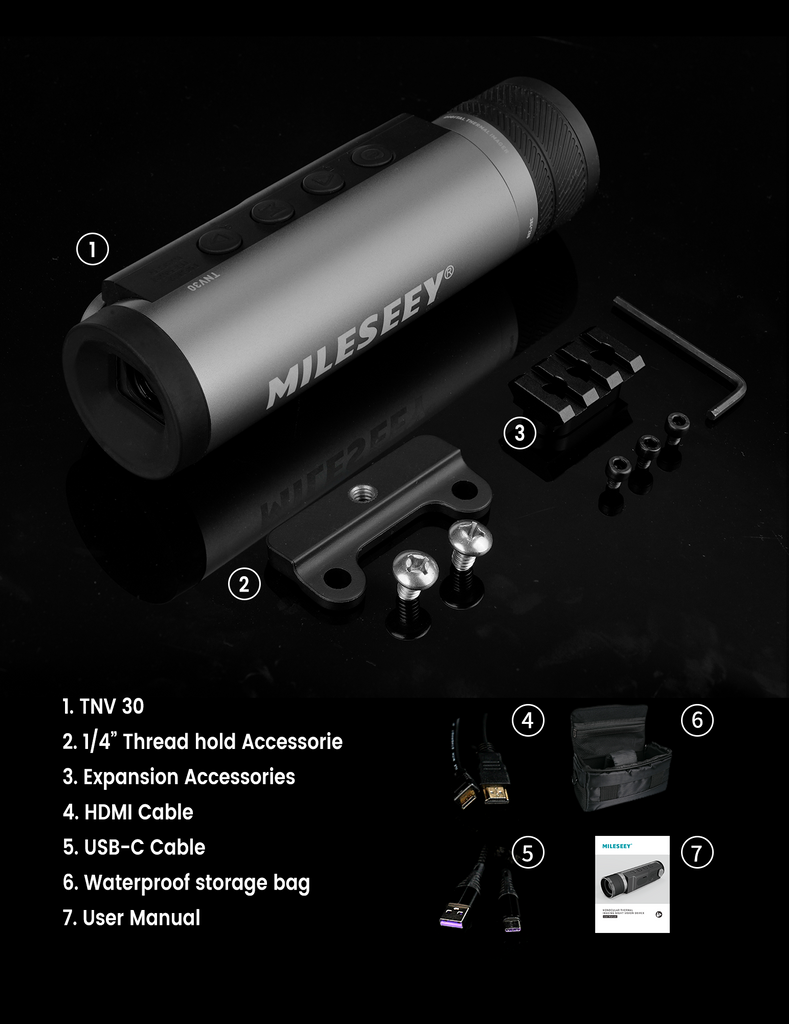 Share
詳細を表示する